Hotel and Residence in Maremma
The Maremma is a pristine piece of land nestled in the heart of Tuscany, its landscapes so beautiful and immense inspired many writers and painters: get involved from the soft nature that characterizes this land, discover the pleasures of life and relax in the many hotels, residences and hotels in the Maremma Maremma Guide offers the tourist a rich list of residences, hotels and hotels where to spend an unforgettable holiday in the many clean beaches that characterize this area, or in contact with nature in the green Maremma.
For reservations in hotels, Bed and Breakfast, Residence and holidays lastminute we recommend:
Residence in Maremma
Residence Fattoria Maremmana - a pristine corner in Maremma, a few km from the sea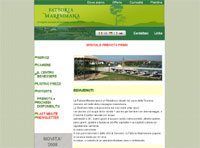 The Fattoria Maremmana is a Residence located in the heart of Tuscany, surrounded by green countryside. The structure offers its guests large spaces with freshwater pools with chlorinated children's pool with jacuzzi, and 3 baths in natural stone with water at 24 ° hypothermal, various water games and swimming; sports activities, playground, gardens and barbecue and offers hospitality in comfortable rooms and self-contained apartments of new construction.
A stone's throw from the sea and from the city of Grosseto, near the NATURAL PARK OF MAREMMA (UCCELLINA) and various stables, Fattoria Maremmana offers the ideal holiday for those who love nature, in a healthy family environment and comfortable
It offers accommodation in comfortable rooms and self-contained apartments of new construction.
Even the double rooms have a bathroom with Jacuzzi, satellite TV, minibar, safe, air conditioning, terrace, garden with barbecue and private parking space.
Fattoria Maremmana
Road of Strillaie, 28
Loc. Principina Terra - 58100 GROSSETO
Tel. 338 3990737 - Fax: 0564 404218
Website: www.fattoriamaremmana.com
E-mail: info [at] fattoriamaremmana.com
Farms in Massa Marittima
Azienda Agricola Valentini - A beautiful farmhouse in the Tuscan Maremma.
The Azienda Agricola Valentini is situated in Valpiana, a few kilometers from Massa Marittima, medieval jewel in the heart of Maremma, in a panoramic position overlooking the Gulf of Follonica.
The property of about twenty hectares is lined by the great forest of cork. The company is family owned and is part of the wine-growing zone DOC Monteregio of Massa Marittima, producing a range of wines and a small amount of extra virgin olive oil. Accommodation is offered in cozy apartments located in two buildings placed in the center of the estate with confidence. Furnished in Tuscan style are comfortable, spacious and bright.
Each apartment is equipped with air conditioning, satellite TV and barbecue, and of course a well-equipped kitchen. Guests can have a large garden, a swimming pool, gazebo and various leisure facilities.

Farm Holidays Valentini
Podere Fiordaliso, 69
Loc. Valpiana - 58024 Massa Marittima (GR)
Tel. 0566.918058
Fax 0566.918049
Cell. 335.5216656 (Giovanni Valentini)
Siro web: www.agriturismo-valentini.it
E-mail: info@agriturismo-valentini.it
Hotels and Lodges in Massa Marittima
The Phoenix Park Hotel 4 stars - Hotel Massa Marittima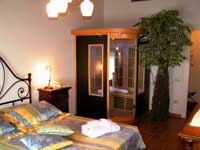 The Phoenix Park Hotel, a nineteenth century building renovated with art and wisdom, especially designed for guests looking for something special.
For those wishing to relax, rich program of massage signed "Ayurveda" performed by specialized professionals. We are happy to arrange appointments for tasting, greens fees for golfers and excursions.
The Hotel, is' situated about 400 meters from the historic center, where in a few minutes, you can walk to restaurants, shops and cafes of Massa Marittima, a splendid medieval jewel that is worth a trip.
All suites are individualy and tastefully decorated and equipped with every comfort:
conditioned air
Satellite TV
wireless connection
safe
bathroom in precious Carrara marble
In summer you can enjoy a rich breakfast buffet in the garden, with pool available.
"THE PHOENIX" Park Hotel
A course .Diaz, 63 - 58024 Massa Marittima - GR - Tuscany
Tel. 0566 903941
Fax. 0566 904202
www.lafeniceparkhotel.it
Other hotels in Massa Marittima
Duca del Mare, 3 stars
Piazza Dante Alighieri, 1-2
Phone: 0566 902 284
Gyrfalcon, 2 stars
Via Massetana North, 25
Phone: 0566 902 177
Hotels and Lodges to Grosseto
The Apennines, 1 star
Viale Mameli, 1
Phone: 0564 230 09
Fax: 0564 232 92
Mulinacci, 3 stars
Via Mazzini, 78
Phone: 0564 284 19
Hotels and Lodges to Orbetello
La Perla, 1 star
Via Etruria, 2
Phone: 0564 863 546
Fax: 0564 865 210
Small Paris, 1 star
Corso Italy, 169
Phone: 0564 867 233
Fax: 0564 867 211
Hotels and Lodges to Porto Santo Stefano
Da Alfiero
Via Cuniberti, 14
Phone: 0564 814 067
Week End
Via martyrs of Hungary, 3
Phone: 0564 812 580
Belvedere, 3 stars
Nearby beaches Poggio Calvella
Phone: 0564 812 634
Hotels and Lodges to Porto Ercole
Shell
Via della Marina, 1 star
Phone: 0564 833 134
Marine
Lungomare A. Doria
Phone: 0564 833 055
Hotels and Lodges to Scansano
The Mail
Piazza Garibaldi
Phone: 0564 507 189
Magini, 2 stars
Via XX Settembre, 64
Phone / Fax: 0564 507 219
The Old House
Location Castagneta, SS322
Phone: 0564 507 219
Hotels and Lodges to Magliano
I Butteri, 1 star
Via Provinciale, 8
Phone: 0564 589 824
Hotels and Lodges to Isola del Giglio
Pardini's Hermitage Hotel, 3 stars
Cala degli Alberi
Phone: 0564 809 034
La Pergola
Via Tahon de Revel - Harbour area
Telephone - Fax: 0564 809 051
By Roger, 2 stars
Via del Saraceno, 86
Phone: 0564 809 121
Hotels and Lodges to Follonica
Miramare 2 stars
Italy Promenade, 84/86
Phone / Fax: 0566 415 21
Orchid
Viale Italy, 41
Phone: 0566 403 34
Hotels, Bed and Breakfast, Bed & Breakfast in Maremma