Holidays in Pitigliano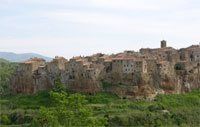 Tourists on holiday in Maremma, the constant search for beautiful landscapes that he decided to stay in a hotel or a bed and breakfast in the area of Pitigliano, to visit the small town that lies perched on a spectacular cliff of tuff: Pitigliano is adorned from ancient medieval buildings and arches of a majestic aqueduct. The entire air surrounding it is dotted with Etruscan tombs, some of which have been processed in cellars.
Visited in a beautiful sunny day, Pitigliano buys a beauty unique: a real jewel in the heart of the province of Grosseto .
Un po 'di story about Pitigliano
Throughout the period Etruscan and Roman, the city acquired a great strategic importance that kept until the Middle Ages, when the family of impadronì Aldobrandeschi. In 1293 he was transferred to the accounts Orsini, thereby increasing its prestige with the installation of the bishop.
Pitigliano was also famous for the flourishing Jewish community that populated, earning the nickname "Little Jerusalem" and even boasted a university that attracted Jewish students from across Europe at the time of the unification of Italy were about 400 Jews that lived there.
Visit Pitigliano
Once in the city comes from Piazza Petruccioli, where there is a small observation tower that overlooks the cliffs and houses at the edge of town, to recommend Tourists taking a few photos of the beautiful landscape. Once we found in Piazza Garibaldi, enclosed by high walls and then immediately meet the huge aqueduct and the fortress, built in the sixteenth century under the supervision of Giuliano da Sangallo.
Inside the fortress is the Palazzo Orsini, the Renaissance: the flight of stairs leading all'Arco the main entrance has a column decorated with a text in honor of Gian Francesco Orsini. The rooms that make up the building are full of jewelry, clothing and sacred objects of all kinds. Inside the palace is located Etruscan Museum, which houses a collection of jewelry, vases and pendants found in archaeological Etruscan site of Poggio Buco.
In the underground fortress of hand, is housed the Museum of Civilization giubonnai, where they are stored various objects Maremma folklore character.
Behind the fort is the unique Piazza della Repubblica with its two fountains and its terrace, where you can admire a beautiful view of the river, waterfalls and the profile of Mount Amiata .
Visiting the historic center of Pitigliano the tourist encounters an dense intersection of alleys and small medieval streets.
Useful information for tourists
Tourist Office
Piazza Garibaldi
Daily 10:20-13:00 / 15:00-19:00
Phone: 0564 617 111

Pitigliano in Maremma