the Laguna Orbetello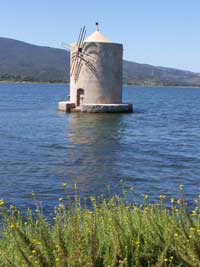 The Orbetello lagoon offers a myriad of opportunities for the lover of birdwatching tourists have been confirmed sightings of 200 species estimated at 450 in Italy. We often encounters sightings of rare species, many of which are located in the lagoon to reproduce natural habitat: the curlew, the osprey, the Gruccione, the marsh harrier and especially the knight of Italy are just Some of the copies that can happen to see in the lagoon.
The presence of all these species is due to the low depth of the lagoon (1 meter) which allows for a simpler way to obtain food. The best time to visit the lagoon is the evening, where you can enjoy magnificent sunsets behind the mountains of 'Argentario.
In the northern part of the lagoon WWF has set up a nature park called the "oasis of protection of the Orbetello lagoon, visitors pay with a aguida at a price of 5.00 euros per person.
Overall, the Orbetello lagoon is one of the wetlands and swampy most important in Italy. E 'highly recommended to the period from September to April.