Holidays at the Tarot Garden in Maremma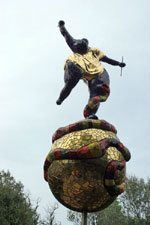 Tourists who want to extend your holiday in Maremma can book a hotel or a bed and breakfast in the small town of Chiarone and visit one of the works of modern art most unique of all Italy, the Tarot Garden, built by the famous artist Niki de Saint-Phalle, known worldwide for having given life with her husband Jean Tinguely, the Fountaine Stravinsky in Paris. Some pieces of Garden are visible from the Via Aurelia.
To complete the work it took less than 17 years of work, and the result is undoubtedly of great impact: a series of works almost 12/15 meters high, they compose the 22 cards of the Tarot, done with style mosaics Gaudi, very bizarre and colorful. A contour, a number of plants and fountains are integrated well into the project.
Useful information for tourists
Summer: Monday to Friday 14:30 - 19:30
Winter: first Saturday of the month 09:00 - 13:00
Admission: 10,50 euros / 6.00 euros reduced
Phone: 0564 895 122