Cottages, apartments, Ranch and Horse riding in Maremma
For all the tourists riding enthusiasts, for experienced riders or for tourists who practice hippotherapy, could not miss a section on the ranch and riding in Maremma, the land of Butteri and the innate passion for the horse. Guide Maremma It offers some facilities where to practice equitourism in complete relaxation, away from duties and thoughts every day.
Apartments and Holiday Homes in Maremma
Poggio Rineschi - A vacation in the mountains of ski slopes, spas and sea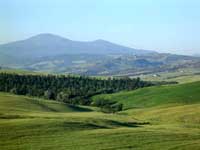 Poggio Rineschi is a country house 15 minutes from the ski slopes of M. Amiata , the thermal baths of Petriolo, less than an hour from the sea. And 'it composed of an apartment, with living room, fireplace, sofa bed, double room with balcony and single bed, bathroom with shower and kitchen. Upstairs double bedroom, sofa bed, single bedroom, bathroom with shower and kitchenette. Small restaurant, garden with barbeque and pool.
POGGIO RINESCHI
Loc.Poggio Rineschi - 58033 Castel del Piano (GR)
tel 329-9865433 or 0577-777755
www.poggiorineschi.blogspot.com
Hotel Prategiano
It is a rustic hotel yet welcoming, located about 1 km from Pontieri, ancient medieval village. Nearby it offers numerous landscapes and breathtaking scenery, the hills and valleys of the Maremma Toscana. The place to combine sports and cultural trips.
The property's staff has over 30 years of experience in the field of horse rides, making it one of the favorite destinations by experts riders and riding enthusiasts. There will be opportunities to go trekking or around the hills on mountain bike, following the well-marked trails.
Location Prategiano, 45
58026 Montieri (GR)
Tel: 0566 997 700
The Court of Ardengo
Located in Civitella Marittima in the province of Grosseto, the Court of Ardengo offers the chance to trek on horseback in several enchanted places of Maremma: the estate of Torre Trap Ombrone between the river and the sea, in an area with a Mediterranean climate, with plenty of wild animals, cows and wild horses. Excursions in the Regional Park of the river Farma, in Petriolo. Chance to stay in rooms in an old stone house in the Tuscan style.
Via del Borgo, 1
Civitella Marittima (GR)
Tel: 0564 900 022
Equestrian Center Western Pegaso
A perfectly organized excursions on horseback with sizing "ad personam", or as they like to call them approaches tailored to suit all types of customers, beginners, novices or experienced riders.
Pegasus Riding Centre offers the chance to stay in their comfortable small houses in masonry equipped with every comfort, with near the paddock for your horse. For those who do not own a horse instead you can use haflinger made available to the Equestrian Center.
Podere Capanna del Nonno
Abandoned places (about 5Km from CINIGIANO)
58040 Stribugliano (GR)
Tel / Fax: 0564 962 173
Tenuta San Carlo
And 'one of the cottages preferred by horse lovers. The farm offers the possibility to undertake the riding in the park dell'Uccellina choosing one of the many horses Maremma to make your excursions in nature.
The hotel has 21 comfortable boxes for horses. For those who want to stay and enjoy a free holiday it is possible to rent one of the many apartments near the stables.
Tenuta San Carlo
Provincial Road 40 of 147 trap / a
58046 Marina di Grosseto (GR)
Tel: 0564 310 16/348 016 0782
Hotels, Bed and Breakfast, Bed & Breakfast in Maremma