Holidays in Porto Ercole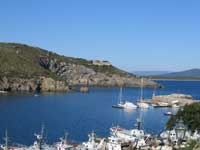 For tourists who want a vacation in a landscape of sea, we recommend the excellent hotels and bed and breakfast in Porto Ercole, a village with the ambiance of a fishing village, characterized by the two Spanish fortresses behind the port and that dominates the country again. At the entrance of the old country is a plaque in memory of Caravaggio.
The country can take two nice trips: one along the tombolo Feniglia the other hand towards the upstream Telegraph, both paths offer superb views and beautiful landscapes.
Hotels in Porto Ercole
Conchiglia
Via della Marina, 1 star
Phone: 0564 833 134
Marina
Lungomare A. Doria
Phone: 0564 833 055
Restaurants in Porto Ercole
Gambero Rosso
Seafront
Phone: 0564 832 650
Wednesday CLOSED

Porto Ercole