Holidays in Porto Santo Stefano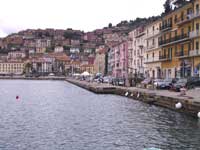 Porto Santo Stefano is the most fashionable tourist resort of Argentario, with its accommodation, hotels, lodges and bed and breakfast cutting edge and its distinctive charm.
The main port is full of yachts of tourists, but if you want to admire the pure essence of the small town, you should take a stroll in the small port city, where small fishing boats are moored with local fishermen who give life to port.
From the main port tourists can take a ferry to visit the beautiful island of Giglio .
On vacation on the trail of dolphins
For a holiday of sea and nature, between snorkeling and whale watching, advise tourists to obtain information from Orza Minore organizes sightseeing tours and holidays in sailing boat with performance racing, it start from Porto Santo Stefano.
Information: 039 328 301
Useful information for tourists
Tourist Office
Corso Umberto, 55 / A
Monday to Saturday 09:00 to 13:00
In summer also 16:30 to 19:30
Phone: 0564 814 208

Porto Santo Stefano